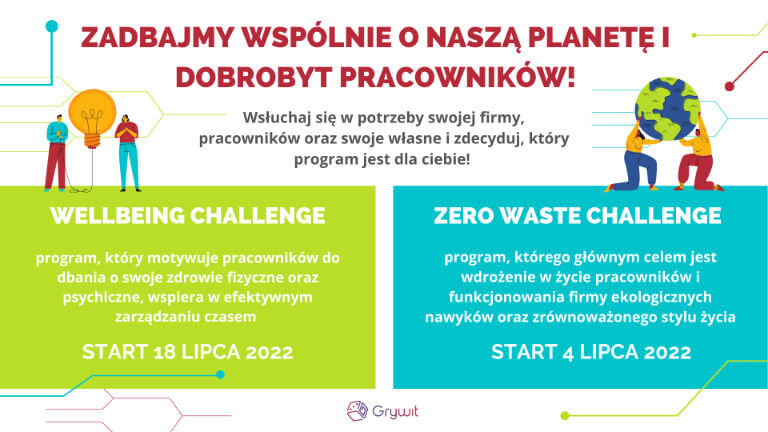 With July and summer days it is getting closer new summer edition of our flagship challenges.
ZERO WASTE CHALLENGE AND WELLBEING CHALLENGE!
Listen to the needs of your company, employees and your own and decide which program is right for you! During the summer months, do you prefer to focus on protecting and caring for the welfare of our planet, or maybe at this point you need to pay more attention to your own well-being, putting your own health, both mental and physical, first?
If you already have your needs identified, but you don't know what to do next - don't worry, we're here to help with our gamification-based programs! Thanks to our application, creating new habits and acquiring new knowledge becomes very easy. Thanks to various challenges, we effectively increase the motivation and commitment of employees!
♻️ "ZERO WASTE CHALLENGE" is a program whose main goal is to implement ecological habits and a sustainable lifestyle in the lives of employees and the functioning of the company. There are over 500 challenges and quizzes full of knowledge and support for the participants of our program to take steps to take care of the natural environment in the spirit of the 5R principles and the Zero Waste idea. It is a comprehensive approach to ecological responsibility of business, both in the context of employees, as well as employers and clients.
???? "WELLBEING CHALLENGE"Is a program that motivates employees to take care of their physical and mental health, supports effective remote management of time, and encourages them to regularly appreciate other colleagues. In the Wellbeing Challenge program, the key is to develop appropriate habits and behaviors through practice, tasks are carried out in a real environment ("Learning by doing"), and the application supports, motivates and measures progress on an ongoing basis.
(I.e. Both programs take place cyclically and lasts one month. You can decide on the starting dates for projects proposed by us or choose an individual date tailored to your company.
To start them, applications from at least 2 different companies are required - if you know someone who would like to take the challenge with us - invite them to the project! 🔥
If you are interested in our offer and want to find out - CONTACT US 😉