Program Wellbeing Challenge is aimed at companies that want to increase their care for well-being both physical and mental your employees. Our main goal is to guide participants towards building healthy habits, finding a balance between the different spheres and roles of his life. The challenges we have created encourage change behavior be habitsfor those more for us beneficial.
#wellbeing #work-life balance #selfcare #well-being
What modules does the application contain?
Wellbeing Challenge is a challenge for company employees that aims to building healthy habits and taking care of wellbeing through the gamification mechanism.
We believe that work in which we spend a lot of time, regardless of whether we work from the office or from our own homes, can be a place friendly to our health, condition and well-being. It takes some effort and motivation, but the benefit is priceless - healthy and satisfied employees mean more efficient and effective workand by the way a chance for building a positive image employer
The Wellbeing Challenge builds pro-health habits and motivates employees to care for their well-being, supports effective time management in remote mode and encourages regular appreciation of other co-workers. Better well-being of employees, improved efficiency at work, which will translate into a reduction in sick leaves, especially long-term ones.
We have received two certificates from the Wellbeing Institute for our gamification system supporting wellbeing and wellbeing practices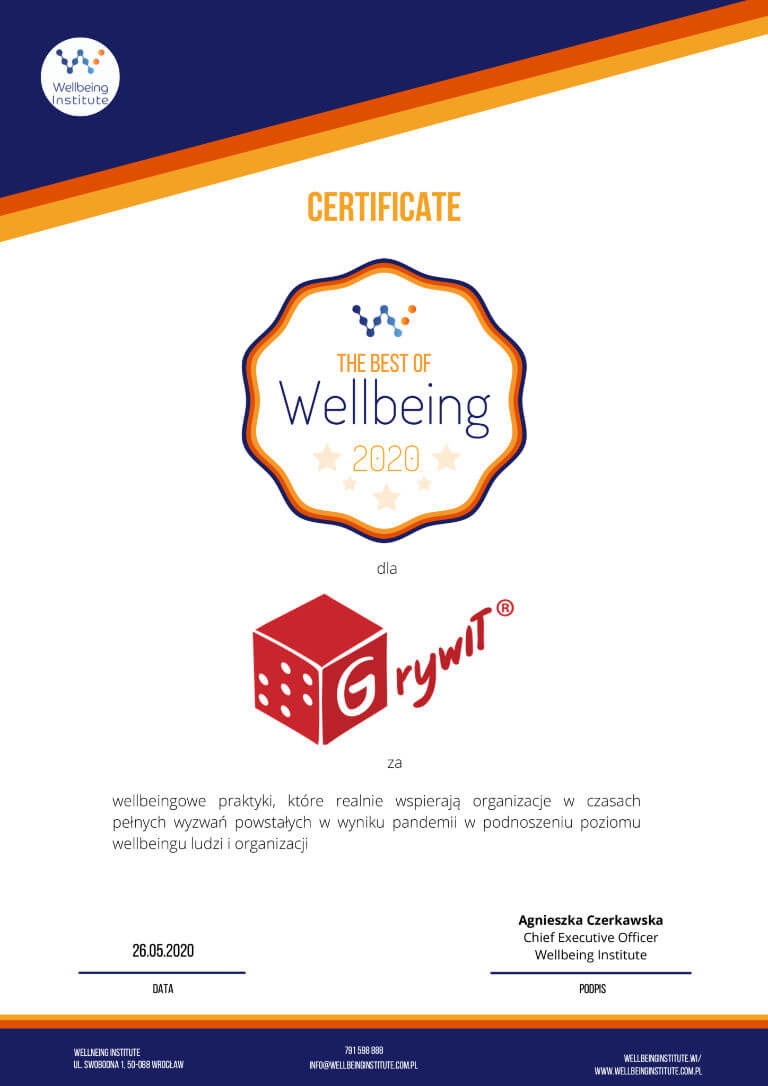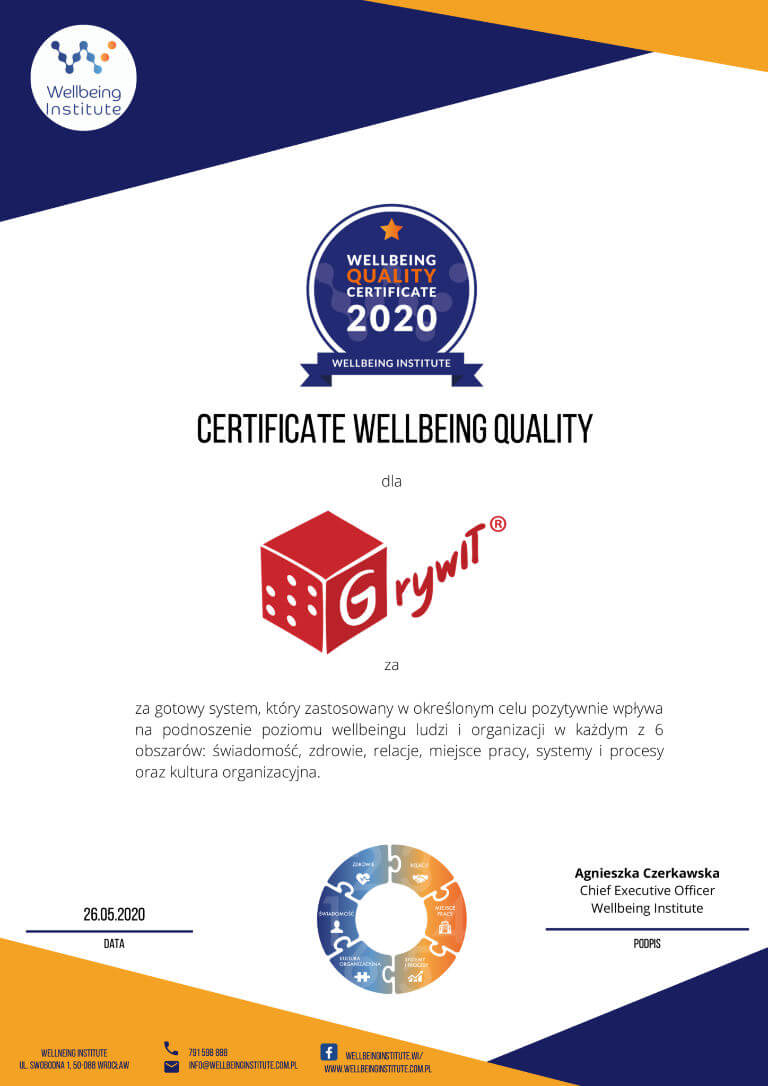 Real challenges
We want the challenges to have a real impact on behavior change, so we carefully select tasks together with our specialists and grade their difficulty so that employees do not get discouraged quickly.
Motivation through gamification
The application will encourage you to take up the challenge every day, and thanks to the use of gamification mechanisms, engaging you to perform tasks in the real world, the implementation of new habits will be pleasant and effective.
Building a positive image
Wellbeing Challenge supports Employer Branding activities inside and outside the organization and may be an additional benefit for employees. We like to help, which is why our challenge includes collecting points for various charities. The exact goal and budget are to be determined.
Improvement of the psychophysical condition and regulation of working time
Increasing the employee's sense of stability and attachment, which results in greater involvement in everyday work, and thus positively influences the growth of the company's results. Increased energy and better regulation of working time, thanks to the challenges of time management and building priorities.
What does the challenge look like in practice?
we drove wellbeing program "Tournament for health" dla employees w Group Veolia. We motivated employees to take pro-health measures and change their habits thanks to gamification. Do you want to see how we did it? Watch the video below, made by our client!
The Grywit app is a great idea. she was able to mobilize both to train and to be more regular in many aspects. you could learn a lot of interesting things about healthy eating and how small details can improve everyday life. thank you for this project.
I can only say one thing ... the whole gamification campaign made me realize how much space I still have to diversify my activities, relaxation and nutrition. it was a very productive 3 months that made me slimmer and improved my well-being
I really liked all the action and tasks in the application. The tasks motivated me to exercise and to change my eating habits. I learned a lot about nutrition and food, I was able to introduce some good habits, and even found myself in some things that previously seemed super boring to me (e.g. yoga). This kind of competition always motivates me a lot.
I recommend! There was no obligation to perform all the tasks, you can choose what you want. Lots of interesting information and a nice design. Cool!
Are you interested in our challenge?
How long can a challenge last?
Are you interested in our challenge?